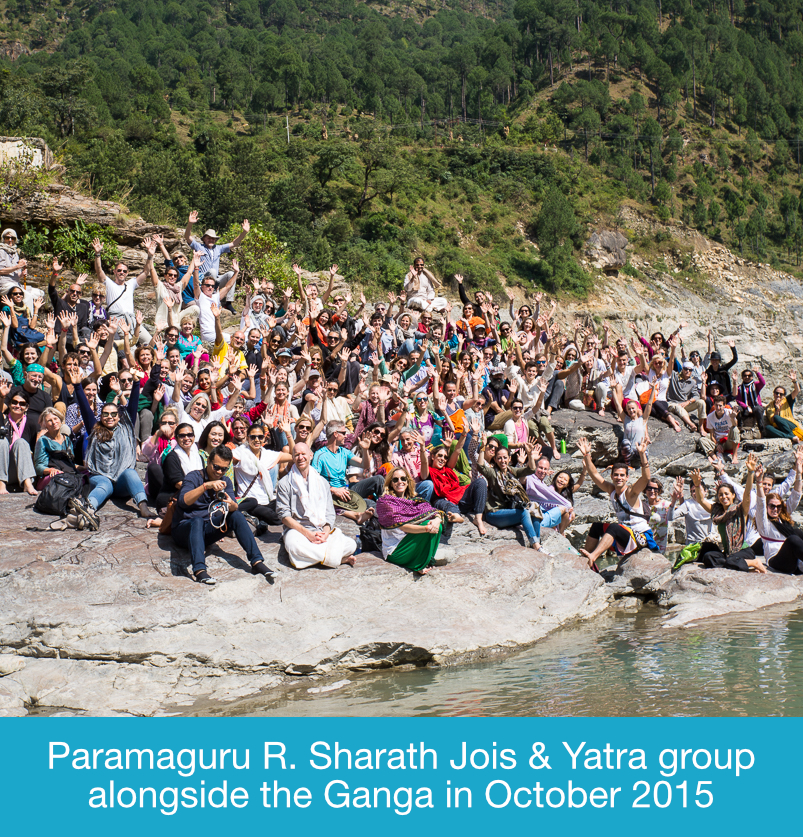 Ashtanga Yoga Yatra 2018: FAQ
THE ASHTANGA YOGA YATRA 2018 HAS BEEN SUCCESSFULLY COMPLETED
CHECK BACK HERE FOR VIDEOS AND PHOTOS – SOON!
WHAT IS A YATRA?: A yatra is a journey, a pilgrimage. In India people have been going on yatra for many millenia to visit temples or sacred prayags (river confluences) where there is a potent atmosphere of spiritual energy. The Himalayas have been a source of spiritual inspiration for sages, saints, and ordinary people alike. Undergoing hardships has always been a part of the journey and pilgrims share an attitude of humility and adaptability in order to reach their desired goals. We will visit many places mentioned in the puranas (mythologies) of India, have darshan of the devas dwelling there, and bring their blessings home to our families and friends.
:::WATCH A VIDEO FROM YATRA 2015:::
CLASSES & PROGRAM: During the 6 days in Rishikesh at Parmath Niketan Paramaguru R. Sharath Jois will teach a led class daily for everyone from 6:30 – 8:00AM. The class will be followed by Satsang — a talk and discussion. There will be two vegetarian meals a day, and chai and snacks in between. Day excursions to temples and ashrams in the area will be arranged. Every evening a Ganga Arati is held on the ghat alongside the Ganga. There will be free time for personal sightseeing and shopping.
Paramaguru R. Sharath Jois will be leading the remainder of the 16-Day yatra in the Himalayas. Since space is limited in the mountains there will be self-practice in the mornings. Days will be filled with visits to temples and sacred places, spontaneous satsangs, a fair amount of traveling along mountain roads, some hiking to get to the temples, bathing in the tirthas for the devoted and brave*(see below) and two vegetarian meals a day as well as chai and snacks.
VISAS: You will need a tourist visa. Get it in good time. Either a Tourist e-Visa or multiple-entry Tourist Visa.
US citizens apply here.
Citizens of other countries please check with your Indian Embassy — information here.
You will be required to provide contact information in India. This can be your hotel upon arrival. Please use:
Pride Plaza Hotel, Hospitality District, Aerocity,  IGI Airport, New Delhi 110037. Tel. +91 -11-66007700  reservations.aerocity@pridehotel.com. Keep this address to tag your bags and enter on your arrival form.
FLIGHTS: You will need a round-trip flight. Purchase it about 60-80 days out from departure.
ARRIVAL: For people on the 16-Day and 9-Day Yatras accommodation begins after mid-day on October 13. We will arrange airport pick-up from IGI New Delhi on that day only. Send us your arrival information please.
DEPARTURE: Busses will drop you back at IGI New Delhi at about 6:00 PM.
9-Day Yatra, book departure flights from 9:00PM onwards on October 21.
16-Day Yatra, book departure flights from 9:00PM onwards on October 28.
NOTE: People on the 6-Day classes only option are required to get to Rishikesh and find accommodation on their own. Classes will start early on October 15 and end on October 20.
IMMUNIZATIONS: We do not advise on immunizations. If you have concerns please consult your physician. Shoreland Travax is a great website for information.
MANDATORY FORMS: Please download, fill in, sign and return by email these required forms soon.
1. Everyone on the 16 Day and 9 Day Yatras must send us the signed TRAVEL WAIVER.
Parmath Niketan Ashram also requires the following forms. Mandatory for everyone.
2. All Foreigners to India must fill in, sign and send us the FOREIGNERS REGISTRATION FORM.
Also send a copy to reservations@parmath.com
3. All Indians must fill in, sign and send us the INDIAN NATIONAL DECLARATION FORM.
Also send a copy to reservations@parmath.com
Thank you.
PAYMENTS & MONEY: Final payments are due by June 1st. If you are not sure about your amount due or how to make the payment please email us. The payment (for the 16-Day and 9-Day Yatras) includes pick up on October 13, drop-off on October 21 or 28, all transport, meals and accommodation as well as classes and talks. You will be required to purchase bottled drinking water and pay for the helicopter or pony ride to Kedarnath and be ready with tips and temple fees. Payment for the 6-Day option only covers classes and talks. It's a good idea to change about $100 into Rupees upon arrival, however you will get better rates withdrawing from ATMs along the way. Inform your bank where and when you will be traveling.
ACCOMMODATIONS: Other than the hotel in New Delhi and Haridwar, accommodations are going to be simple. Most rooms are double-sharing except in the ashram, Parmath Niketan, where some are triple-sharing. Some people have requested single rooms and will be accommodated accordingly. In the Himalayas, since accommodation is sparse, some of the double-sharing rooms may have a cot bed or a mattress on the floor as the second bed. For the night in Kedarnath there are four people to a cottage with bathroom. Please do not expect luxuries. After all we are on Yatra where one is supposed to undergo a few hardships.
WHAT TO BRING: Please try to travel as lightly as possible. We have a large group. One medium size roller bag and a daypack, both clearly marked with your name, should be good. Here is a suggested packing list for everyone and below are a few extras for people on the 16-Day Yatra into the Himalayas.
Passport with visa. Copies of same in a separate place. Credit/Debit cards for ATM cash withdrawal.
Yoga Mat – light and sturdy.
Comfortable conservative practice clothes please. See **notes below.
Shawl for walking around outside of the yoga hall.
4 changes of lightweight comfortable conservative clothes.
Women — salwar kameez and/or saris if you like.
Men — kurtas, long pants or a dhoti if you like. Don't walk around in shorts.
Sandals (flip-flops best) and light hiking sneakers.
Rain gear, hat, and travel umbrella for sun and rain.
Light packable sweater, fleece, or hoodie for cool evenings.
Toiletries, prescription meds, anti-diarrhea and anti-constipation treatments.
Towel – Indian cotton towels are the best.
Mosquito repellant, hand-sanitizer, sunscreen, basic first aid.
Tea tree oil, rescue remedy, muscle pain relief — what you think is best.
Small flashlight or headlamp, pocket knife, water bottle, clothesline.
Snack bars, comfort foods — what makes you happy.
16-DAY YATRA UP INTO HIMALAYAS, ADD THESE
Thermal underwear — easiest way to keep warm.
Beanie, socks, light gloves.
We will not need sleeping bags but a sheet liner may be a good idea (not essential).
About bathing in the tirthas. This can be dangerous depending on the water flow at the time. The mountain rivers are swift and cold. At your own risk. We will have people to help for those who wish to take a holy dip. Women are expected to dip in their clothes. Men can wear shorts. Some places have chains to hold on. Taking a dip in these holy waters is extremely purifying.
**DRESS GUIDELINES FOR YOGA: All please wear clean, neat clothes. Otherwise, the guidelines are gender specific. We realize that some of you may object to such strictures on dress but the Himalayas are a conservative place whose main purpose is religious pilgrimage and study. We will be practicing in an ashram. We want to be sensitive to and respectful of the local customs and expectations so we and others can enjoy the bliss of the Himalayas on future programs and retreats. Thank you in advance for your understanding and cooperation.
Women: During practice no jog- or sports-bras alone. Please wear a tee shirt or tank top over the jog- or sports-bra. No shorts. No leggings outside of the practice room unless worn with a long tunic or kameez. On temple visits, salwar kameez or saris or long skirts are appropriate; shoulders covered please. In general, it's a good idea to have a shawl.
Men: Shorts are OK during practice, but not on the street. Dhotis are very comfortable and can be worn in all circumstances and particularly for temple visits.
HELPFUL HINTS: Please refrain from doing asanas in the streets and public places, especially temples. Please dress conservatively (avoid being skimpily clad) throughout the yatra. Our hosts are doing their utmost to make us happy and we need to behave accordingly.
Drink bottled water only. Available everywhere. Cheaper in a store rather than a hotel.
Do not eat street foods, especially fried foods. You will get sick.
Keep your money and valuables safely.
Have a copy of your passport and visa pages. Keep separately.
If you are prone to travel sickness, bring motion meds and ginger sweets. Lots of winding mountain roads.
There are ATMs in New Delhi & Rishikesh, but in the mountains they will be scarcer. Tell your bank you are traveling in India with dates of travel.
You can buy an Indian SIM upon arrival at the airport which will give you basic connectivity.
Bring an Indian travel adapter for your devices.
EMERGENCY NUMBERS IN INDIA:
Radhakunda das: +91 9930141802‬
Robert Moses: ‭+91 7302782761‬ or +91 9599034850‬
BOOKS Some general reading suggestions (not yoga-focused).
Benares, City of Light by Diana L. Eck. About Benares, but it will enlighten one about India and Hindu thought.
India: A Sacred Geography by Diana L. Eck. Explains it all in a very lucid insightful manner.
Darsan: Seeing The Divine Image In India by Diana L. Eck Gives insight into the concept of darshan.
Virtue, Success, Pleasure, and Liberation: The Four Aims of Life in the Tradition of Ancient India by Alain Danielou. A clear and concise exposition of the orthodox 'Hindu' view of the universe.
The Myths and Gods of India, the Classic Work on Hindu Polytheism from the Princeton Bollingen Series, by Alain Danielou. An examination of the bewildering complexity of the devas of India.
Seeing Spiritual India: A Guide to Temples, Holy Sites, Festivals and Traditions by Stephan Knapp. This is a great book which covers all of India. Also excellent section on traveling in India.
Swami Sivananda wrote over 300 books. We will visit Swami Sivananda's samadhi shrine at the Divine Life Society in Rishikesh. Free books here http://www.dlshq.org/saints/siva.htm
UTTARAKHAND Here is a great website about the region. Check out the maps. The Wikipediapage has all kinds of interesting information. Here is a detailed road map of the whole region. 
We look forward to meeting you and going on a grand adventure in sacred India.
LEARN MORE>>>     ITINERARY>>>      MAP & READ ME>>>