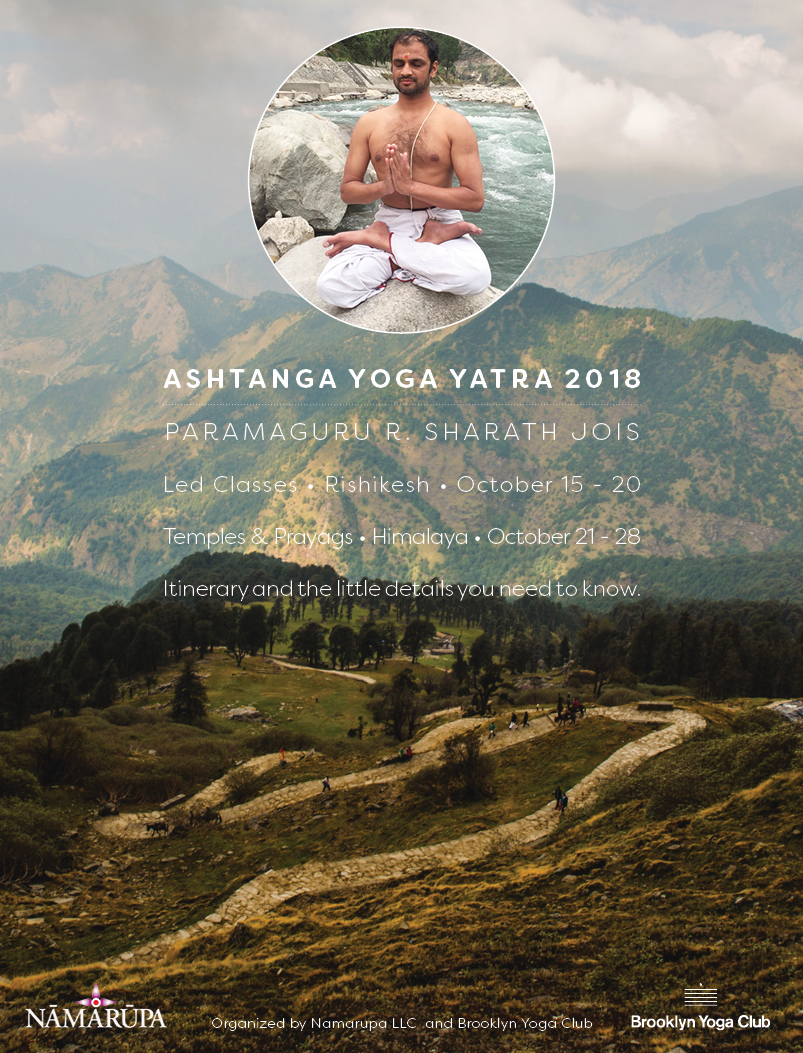 Ashtanga Yoga Yatra 2018: Itinerary
THE ASHTANGA YOGA YATRA 2018 HAS BEEN SUCCESSFULLY COMPLETED
CHECK BACK HERE FOR VIDEOS AND PHOTOS – SOON!
The itinerary below is a broad outline of the events of the day. Keep checking back to this page as details may well change.
Saturday October 13
Arrive in New Delhi – Check into Pride Plaza Hotel, Hospitality District, Aerocity,  IGI Airport, New Delhi 110037. Tel. +91 -11-66007700  reservations.aerocity@pridehotel.com. Keep this address to tag your bags and enter on your arrival form.
Sunday October 14
The whole group will board comfortable busses for the ride to the beautiful Parmath Niketan Ashram alongside the Ganga in Rishikesh. Check in. Attend Ganga arati.
Monday October 15 – Saturday October 20
Paramaguru R. Sharath Jois will lead early morning Ashtanga Yoga classes. These will be held at the covered open air platform right next to the sacred Ganga. After class and a vegetarian brunch you will have some free time to explore Rishikesh and environs. Different activities will be planned during the day. Each evening there is a spirited and uplifting Ganga arati and kirtan.
Sunday October 21
People on the 9 day Workshop will be taken by busses back to New Delhi. Those on the 16 day Yatra will head north in busses. First stop is Devprayag, confluence of the Bhagirathi and Alaknanda rivers where we will take our first snaan or holy dip. Proceeding through the beautiful Himalayan foothills alongside swiftly flowing rivers we will reach Rudraprayag for our next dip at the confluence of Mandakini and Alaknanda rivers. Finally we will halt for the night in Guptakashi.
Monday October 22
Now begins the adventure up to Kedarnath. You will have the choice of a short helicopter ride, walk uphill for 18 Kms, or ride a sturdy mountain pony. We will spend the night at Kedarnath and attend evening arati. This is one very powerful place indeed!
Tuesday October 23
Early morning darshan, where one is permitted to bathe the large Lingam in the shape of the hump of Siva's bull Nandi.  We will spend some time immersed in the vibrant energy of Kedarnath and then head back down either by walking, pony or helicopter to rest at our lodging in Guptakashi.
Wednesday October 24
Darshan at Guptakshi Temple, where Siva hid from the Pandavas who were trying to find him to seek forgiveness for their sins committed during the Mahabharata war. Then a drive to start the winding trek through rhododendron forests and above treeline to Tungath, highest temple in India and one of the Panch Kedars of Lord Siva. Back to Guptakashi for the night.
Thursday October 25
Visit Kalimath, Sakthi Peeth of Mother Kali, where She is worshipped as a large Sri Yantra. Then on to Triyuga Narayan where Siva and Parvati were married and Lord Vishnu was the best man. A homa fire has been burning here since the Treta Yuga. Time permitting we will be able to take a walk along a mountain ridge to visit Kartikswami where one can have a 360 degree of the Himalayas. Then drive to Rudraprayag or Srinagar for the night halt.
Friday October 26
Down from the mountains via Vashishta Guha to Haridwar for the night.
Saturday October 27
Rest, relax, explore and shop a full day in Haridwar. In the evening enjoy a final Ganga bath and Ganga Arati at Har-ki-Puri.
Sunday October 28
By busses back to New Delhi and IGI Airport. It will safest to book your homeward flight late night or early October 29 morning.
Please note that the above itinerary is subject to change before or during the yatra. Travelling in the Himalayas always has some surprises!  Om Shantih! Shantih! Shantih!
:::WATCH A VIDEO FROM YATRA 2015:::
LEARN MORE>>>     MAP & READ ME>>>   FAQ>>>