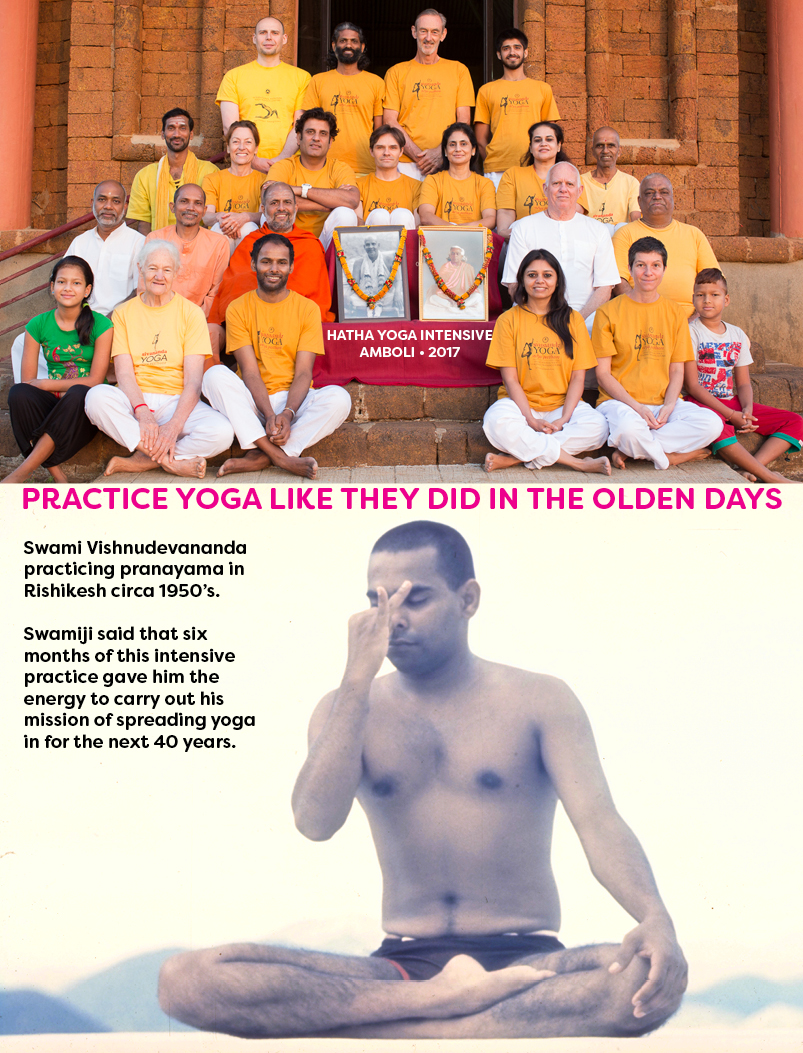 Hatha Yoga Intensive in Uttarkashi: September 2018 :: Completed
HATHA YOGA INTENSIVE is a program devised by Swami Vishnudevananda based on his own hatha yoga sadhana in the Himalayas. Swami Vishnudevananda often said that six months of this intensive practice gave him the energy to carry out his mission of spreading the teachings of yoga in the West for next 40 years.
The Hatha Yoga Intensive from September 10 – 30, 2018 at Tapovan Kuti in Uttarkashi, Himalayas, India will be guided by Swami Govindananda and Robert Moses, both direct disciples of Swami Vishnudevananda. Please go to Sivananda Yoga Vidya Peetham to register. Uttarkashi is renowned as being highly conducive to intensive spiritual practice. Many sages have done tapas here, alongside the Bhagirathi (Ganga) river, in the fresh mountain air.
This course is based on individual self-practice divided into two or three sessions per day. The emphasis is on intense and prolonged pranayama. Students work towards eight hours of hatha yoga per day which is balanced by the study of classical scriptures. The course demands a high level of self-discipline and students are guided according to individual needs. Students are expected to remain within the ashram premises throughout the course with no free days, no access to telephone or email and a strict sattvic diet (salt, spice, tea and sugar free). The highly controlled environment is vital for this type of practice. Hatha Yoga Intensive affords a unique opportunity to extend the limits of our capabilities, strengthen our stamina and develop self-confidence with long lasting effects.
Hatha Yoga Intensive courses are open only to Yoga Teachers Training Course (YTTC-1) graduates from SYVP and ISYVC. This two-week course requires some preparation from the student. Interested students are advised to prepare by following a regular daily hatha yoga practice and a sattvic lifestyle. Sound physical and mental health is a pre-requisite.
Curriculum
Explanation and practice of advanced pranayama, bandhas (locks) and mudras (seals).
Daily self-practice of asana.
Practice of shat kriyas (cleansing techniques).
Meditation and chanting.
Keeping a spiritual diary.
Study of classic yoga texts: Viveka Chudamani by Adi Sankaracharya, a standard text on Vedanta philosophy.
Hatha Yoga Pradipika by Yogi Swatmarama with commentary by Swami Vishnudevananda.
Srimad Bhagavatham, a classical text on Hatha Yoga with many devotional stories for the practice of Bhakti yoga
Daily schedule
• Practice of kriyas.
• Morning and evening satsang with meditation and chanting.
• Two or three practice sessions of asana and advanced pranayama incorporating bandhas and mudras.
• Study of Hatha Yoga Pradipika / Viveka Chudamani / Srimad Bhagavatam.
• Morning almond milk drink, brunch and dinner.
* Participation in the entire daily schedule is mandatory.
* The course director may change the schedule according to the need of the students.
Texts . * These texts are included in the course donation.
• Viveka Chudamani by Adi Sankaracharya.
• Hatha Yoga Pradipika by Swatmarama with commentary by Swami Vishnudevananda.
• Srimad Bhagavatham
Assessment and Certification
A certificate of training from Sivananda Yoga Vidya Peetham (SYVP) is awarded on successful completion of the course.