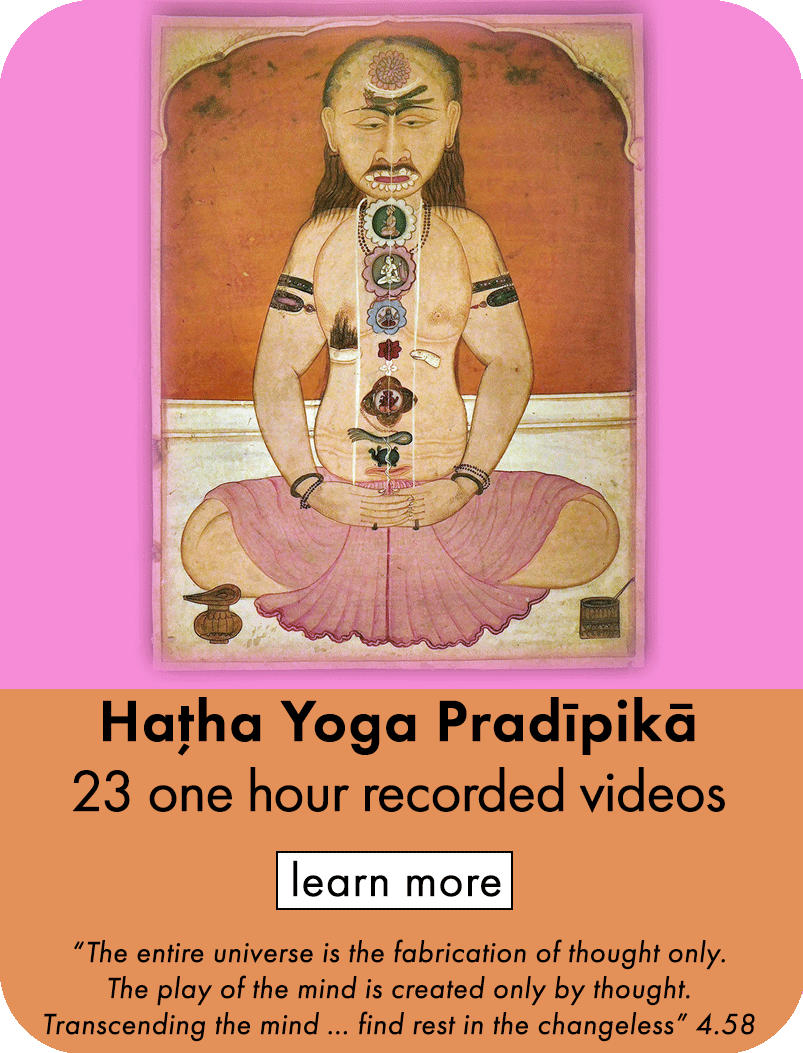 Haṭha Yoga Pradīpikā Recorded Videos
$72.00 – $108.00
Haṭha Yoga Pradīpikā (Light on Hatha Yoga) is a classic fifteenth-century Sanskrit manual on haṭha yoga, written by Svātmārāma. It is among the most influential surviving texts on haṭha yoga, being one of the three classic texts alongside the Gheranda Samhita and the Shiva Samhita. Nearly all of modern yoga is based on teachings from these texts. Three different translations of the text in English were presented and used to discuss the teachings and practices, providing as much current scientific verification as possible. Much of the language in the text is esoteric and understanding relies upon commentary from practitioners. The ultimate lofty goal of the practices is to attain the state of 'unmani avastha' or the complete cessation of 'mind'. One needs to proceed cautiously. The Haṭha Yoga Pradīpikā offers sensible knowledgeable guidance.
HATHA YOGA PRADIPIKA • RECORDINGS OF THE COMPLETED CLASSES • THERE ARE 23 ONE-HOUR RECORDED CLASSES.
These recordings of a systematic study of the text, using slide visuals, were made during the live classes to date. Suggested donations to receive the links and passwords (on VIMEO) are below. After donating you should get an email with all the links. Check your spam folder if you do not see the email. You may also receive and email saying your donation is on hold. Ignore and wait and the links should arrive. If not email me please. Thanks. If you're unable to donate please email me to request recordings.
Additional information
| | |
| --- | --- |
| Amount | $1, $27, $36, $45, $54, $72, $90, $108 |