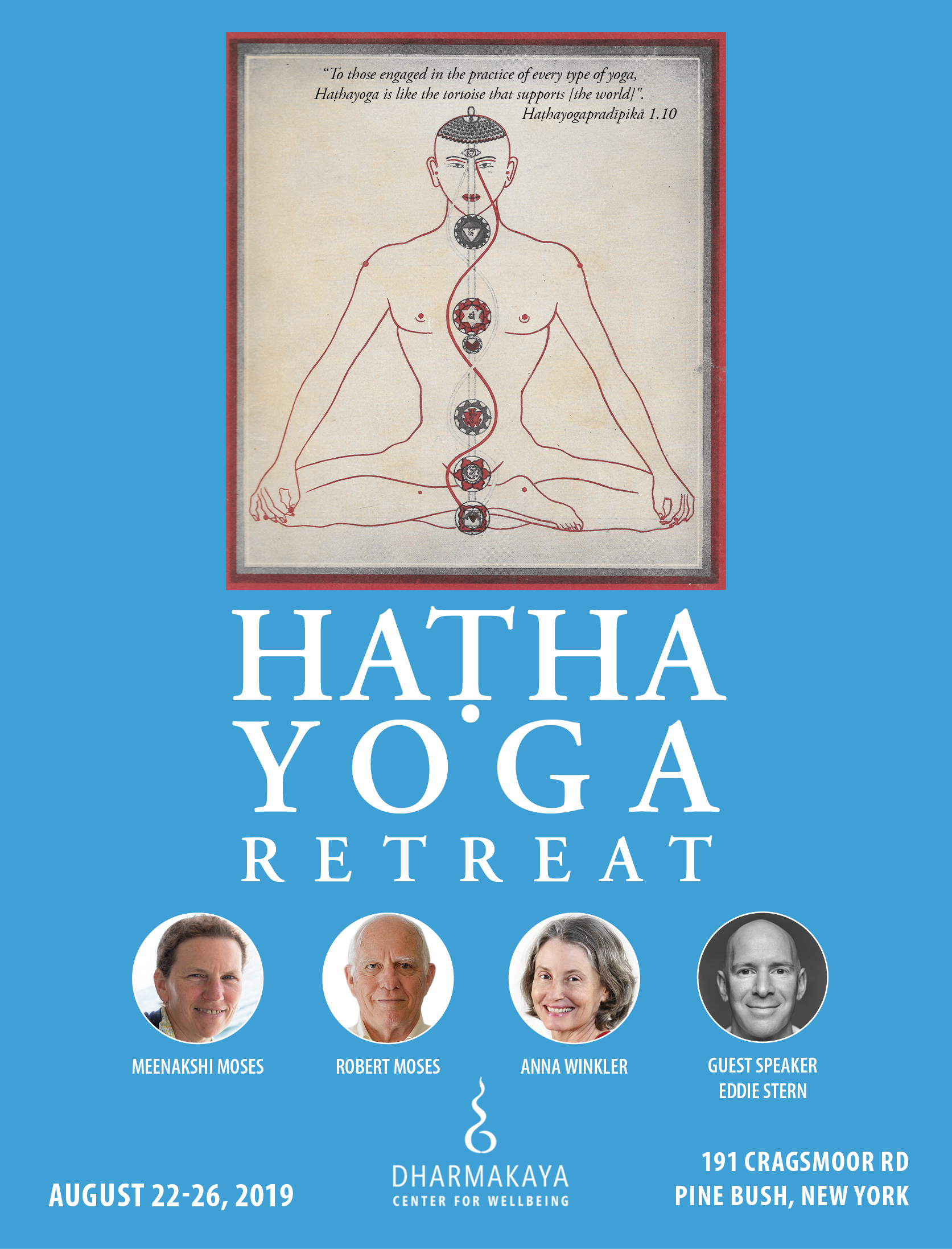 Hatha Yoga Retreat in Pine Bush NY August 2019 :: Completed
HATHA YOGA RETREAT: August 22-26, 2019
ROBERT & MEENAKSHI MOSES, ANNA WINKLER & SPECIAL GUEST SPEAKER EDDIE STERN.

THE HATHA YOGA RETREAT HAS BEEN SUCCESSFULLY COMPLETED
CHECK BACK HERE FOR VIDEOS AND PHOTOS – SOON!
Robert and Meenakshi Moses and Anna Winkler invite you to attend a special Hatha Yoga Retreat this summer at the new and beautiful Dharmakaya Center for Well Being in Pine Bush, New York. We will focus on the Hatha Yoga practices of asanas, pranayama and meditation as described in the classical medieval text Hatha Pradeepika by Yogi Swatmarama. Our guru, Swami Vishnudevananda, designed an hatha yoga intensive to replicate his own sadhana that he did long ago in the Himalayas alongside the Ganga. This summer we are introducing the concept with a 5-day Retreat. The philosophical view point of non-dualism will be discussed, alongside devotional practices such as chanting and homa that help open the heart.  The Retreat combines instruction, discussion and both guided and self practice for an intensive experience. Please join us.
PLEASE GO HERE for RATES and to REGISTER
REGISTER
DAILY PROGRAM
Wake at 5:00 AM for satsang with silent meditation followed by kirtan. We will chant the Shantih mantras as well as Guru and the HathaYoga lineage chants all in Sanskrit. Inspirational verses from Vivekachudamani, the Advaita Vedanta primer by AdiGuru Sankaracharya, will be read. We will do sukshma vyayama warm ups and make a sankalpa (determination and instructions) of the practice for the day. After an almond milk drink, asanas and pranayama will be self practice following the sankalpa. Vegetarian brunch will follow. During the mid-day class we read from and discuss Hatha Pradeepika. Afternoon asana and pranayama class is taught as a guide to the next morning's self practice session. After dinner, we will sit for more meditation and chanting or enjoy a silent walk as weather permits. Lights out at 9:00 PM. Scroll down for detailed daily schedule.
TEACHERS
Eddie Stern (Guest Speaker) is a yoga teacher, author, and lecturer from New York City. He is known for his multidisciplinary approach to furthering education and access to yoga, as well as his teaching expertise in Ashtanga Yoga. He most recently created The Breathing App, which guides the user in a paced breathing exercise that balances the nervous system, helping to improve sleep, and reduce stress and anxiety. One Simple Thing: A New Look at the Science of Yoga and How It Can Transform Your Life is his first solo book. We highly recommend you purchase and read this book before the Retreat as Eddie will be talking and taking questions about the content.
Robert Moses will lead the meditation, Shantih mantras, pranayama and text discussions.
Robert spent over 20 years with his teacher Swami Vishnu-devananda and then settled with his wife in Dublin, NH to raise three children. He continues his sadhana, practicing a synthesis of bhakti, karma, jnana and raja yoga as outlined by Swami Sivananda. Both he and his wife practice and teach Sivananda and Ashtanga yoga. He also co-publishes Namarupa: Categories of Indian Thought, with Eddie Stern and annually guides people on spiritual pilgrimages to India.
Meenakshi Moses will lead the Sukshma vyayama, asana classes, self-practice assistance and chanting.
Meenakshi began her study and practice of Yoga in NYC in 1985. She received Sivananda Yoga teacher certification in 1988 and Advanced Sivananda Yoga teacher certification in 1990. Meenakshi was a staff member of the International Sivananda Yoga Vedanta Centers (ISYVC) from 1988 to 1994. During those years, in addition to general ashram work and life, Meenakshi taught the asana portion of the Sivananda Yoga Teachers Training course in India, New York and Uruguay. Having left the ashram to marry and raise a family, Meenakshi continues to practice and teach yoga in her community.
Anna Winkler will lead asana classes, self-practice assistance and chanting.
Anna has been practicing and teaching yoga since 1989. She was originally certified through the Sivananda Yoga Organization, where she served as a volunteer staff member for over 6 years. Among many other things, she assisted in the Yoga Teacher Training courses and modelled for 2 yoga books during her time there: Yoga, Mind and Body and 101 Essential Tips: Yoga. Anna has been practicing Ashtanga Yoga since 1997. She has studied with numerous authorized teachers including Eddie Stern and has been teaching since 2002. She has been studying and practicing Iyengar Yoga with Theresa Rowland since 2007, from whom she received her second 500 hour teaching certificate. Anna has been teaching in the Maplewood area since 2001, and is the founder and director of Shakti Yoga & living arts since June 2005 (formerly the Yoga Room in Millburn from 2001).
HATHA YOGA
Yoga, long ago, thoroughly intuited the dynamic state of equilibrium called homeostasis and its role in the optimal functioning of the human being. Yoga evolved subtle techniques still used today to enhance our health and happiness.  Often in modern yoga practice the emphasis is on the muscular-skeletal system. However, yoga practice was originally much more focussed on the nervous and respiratory systems. The yogis developed methods using breath to balance and fine tune the body's responses to stressors leading to increased well-being and stronger resistance to, as well as quicker recovery from, disease. The various asanas mainly enabled and enhanced breath control. Balancing the right and left hemispheres of the brain was of paramount importance. We will investigate the nervous and respiratory systems of the body, as well as the endocrine and immune systems and learn how yogic principles work as verified by modern science. We will learn about Heart Rate Variability, how it is an accurate and easy way to measure the health of the autonomic nervous system and how pranayama and bandhas tone the vagus nerve which in turn leads to a stronger and healthier being.
DAILY SCHEDULE
DAY ONE – ARRIVAL
3:00 PM Check in
3:30 PM Juice and snacks
4:00 PM Initiation and explanation of practice and schedule
5:30 PM Dinner
7:00 PM Meditation, Jaya Ganesha kirtan, Short Talk.
9:00 PM Bed time
DAYS TWO, THREE, FOUR
5:00 AM Wake up and Kriyas
5:30 AM Silent Meditation, Jaya Ganesha kirtan, Shantih Mantras, Guru Parampara Mantras
6:15 AM Reading from Viveka Chamudamani
6:30 AM Sukshmya Vyama (Warm ups), Hatha Yoga Parampara Mantras, Sankalpa, Instructions for the day
7:00 AM Arati
7:15 AM Almond drink
7:30 AM Asana and Pranayama – Self Practice with guidance.
10:00 AM Brunch
12:00 NOON Talk – HathaPradeepika
2:00 PM  Juice and snack
3:00 PM  Asana and Pranayama – Taught class
5:30 PM  Dinner
7:00 PM  Silent meditation or silent walk, Jaya Ganesha kirtan, Q & A, Arati
9:00   Lights out.
DAY FIVE
Same as days two to four up to 2:00 PM
2:00 PM Closing ceremony and remarks.
3:00 PM Farewell check out.