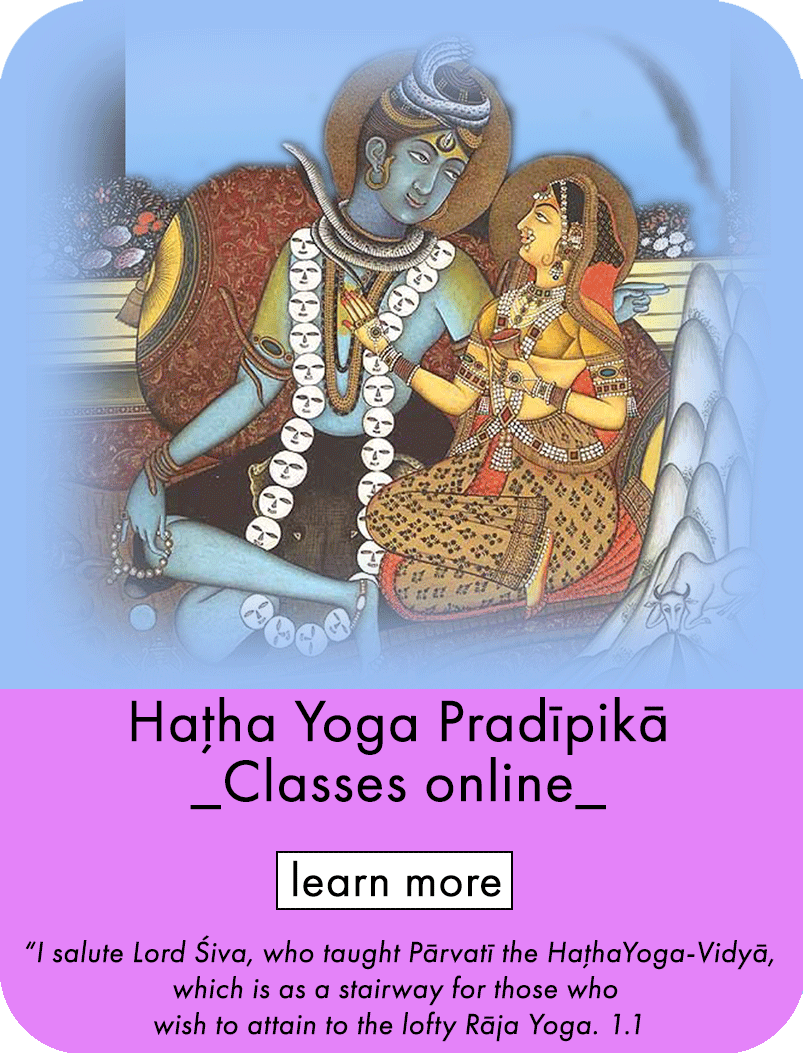 Haṭha Yoga Pradīpikā Live on Zoom
$36.00 – $72.00
CLASSES ON SUNDAYS 9:00 – 10:00 AM USA Eastern Time
REGISTER BELOW FOR JUNE 6, 13, 20, 27, 2021
One-hour discussions, based on readings and commentary of the text. If you wish to explore Hathayoga in depth, then these classes will help. The ultimate aim of the yoga in the Hathayogapradeepika is to attain the state of "unmani avastha" or the transcendent state of [no]mind.

Haṭha Yoga Pradīpikā (Light on Hatha Yoga) is a classic fifteenth-century Sanskrit manual on haṭha yoga, written by Svātmārāma. It is among the most influential surviving texts on haṭha yoga, being one of the three classic texts alongside the Gheranda Samhita and the Shiva Samhita. Nearly all of modern yoga is based on teachings from these texts. We will read the text in English and discuss the teachings and practices, providing as much current scientific verification as possible. Much of the language in the text is esoteric and understanding relies upon commentary from practitioners. The ultimate lofty goal of the practices is to attain the state of 'unmani avastha' or the complete cessation of 'mind'. One needs to proceed cautiously. The Haṭha Yoga Pradīpikā offers sensible knowledgeable guidance.
LIVE CLASSES: Suggested donations below.  You will receive a link to the ZOOM Meeting ID and Passcode in the confirmation email. Please keep them safely and do not share with anyone. You only need to register once on ZOOM for all 4 classes. If you do not receive the links PLEASE CHECK YOUR SPAM folder. Looking forward to seeing you in the class on Zoom. Best wishes, Robert.
RECORDED CLASSES: Nineteen (19) classes have been completed and recorded. To get these recorded videos please go here.
If you're unable to donate please email me to request enrollment.