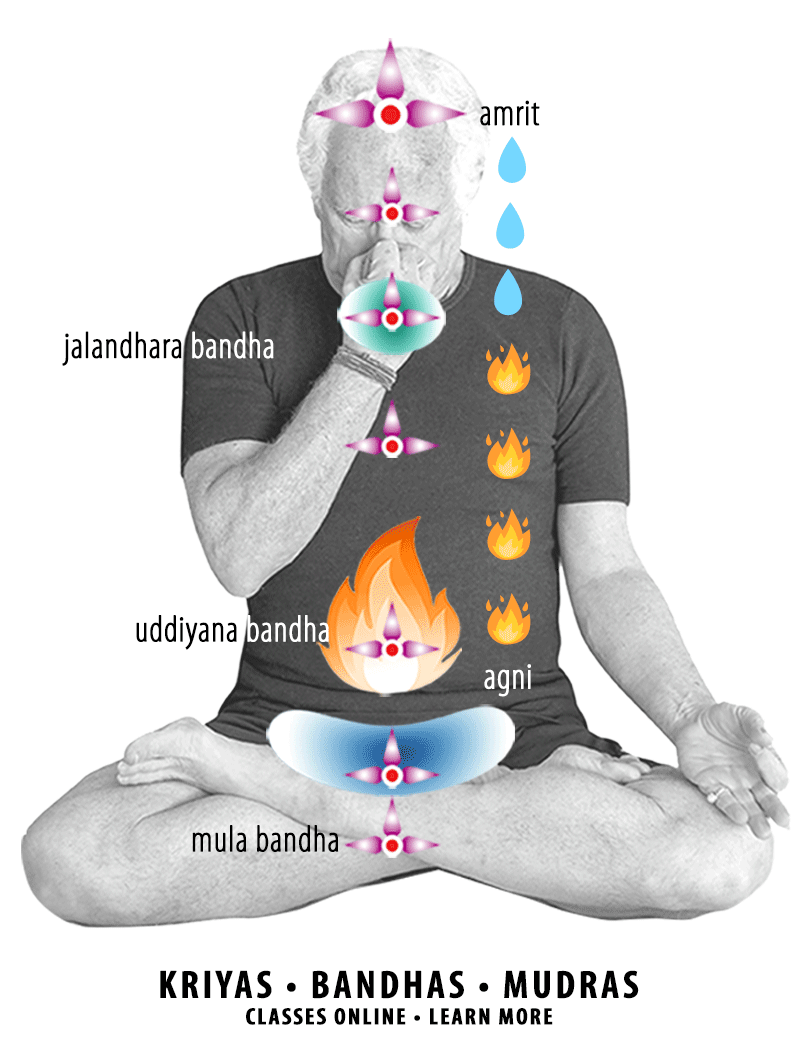 Kriyas•Bandhas•Mudras & Sukshma Vyayama – Live on Zoom
$27.00 – $108.00
SUNDAYS 6:30-7:30 AM USA Eastern Time.
NEXT SESSION: October 9, 16. 23 & 30, 2022 

In Haṭha Yoga Pradīpikā there are six kriyas and ten mudras. The mudras are a combination of pranayama kumbhakas with asanas and bandhas. The kriyas are purificatory practices. The aim of these is the eventual awakening of kundalini shakti. For most of us it is a distant goal, however the road always begins with one step. Open to people that have a regular practice and a balanced lifestyle.
These classes will begin with a step by step introduction to the Sukshma Vyayama sequence. Each class will be 30 minutes devoted to learning these easy and effective practices which are excellent as preliminary training prior to more advanced mudras.
The last 30 minutes will be focussed on the practice of mudras with bandhas.
Theory is good but a regular daily practice is more essential. We follow the kriyas, mudras and bandhas outlined in the Haṭha Yoga Pradīpikā of Yogi Svatmarama (circa 15th. century CE.) with some scientific explanation and verification. Classes will consist of preliminary steps including aspects of Sukshma Vyayama and four important bandhas, a main section covering MahaMudra, MahaBandha, MahaVedha and SakthiCalana and a closing with ViparitaKarani.
Register below. See the resources page for tips to prepare and a Neti demo video. Sign up for News here.
Suggested donations amounts are below.
Register for 1 month (4 classes) or 3 months (12 classes).
You will receive a link to ZOOM in the confirmation email.
Then register on ZOOM once for 1 month.

If you choose 3 months you will be sent the ZOOM links at the start of each month.

If you do not receive the links PLEASE CHECK YOUR SPAM folder.
Please keep the links safely and do not share with anyone.
If you're unable to donate please email me to request enrollment.
Classes are recorded and uploaded to VIMEO with password for you to use at anytime.
A set of 4 recorded classes from January 2022 is also available. Click here.