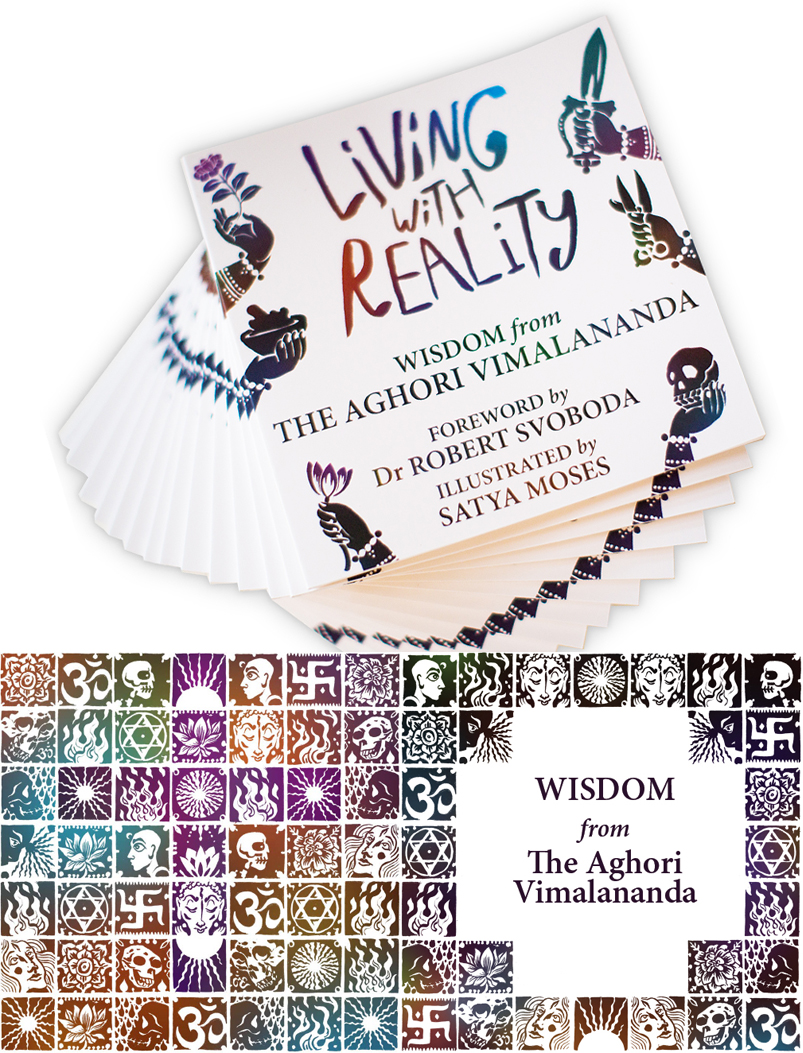 Living with Reality: Wisdom from the Aghori Vimalananda
$12.00
Visualizing the words of Vimalananda!
Living with Reality: Wisdom from the Aghori Vimalananda, a book featuring illustrations by Satya Moses that visually interpret 28 quotes from the beloved Aghora books by Dr. Robert Svoboda, is out now.
Featuring a foreword by Dr. Svoboda, with quotes covering subjects like love, faith and how to work with our minds, this book will assist anyone looking to get a better understanding of their spiritual path. This book makes the perfect gift for your friends!
7 x 7 inches square (17.75 x 17.75 cm.)
64 perfect bound glossy pages
Please e-mail us to enquire about wholesale rates. Thanks.
The publishers apologize for not having the manuscript proofed before rushing to press.
Errata: Page …
6:    lifteing correct to lifting
7:    benefitted correct to benefited
14:  to correct to too
54:  bound correct to bounds
62:  loaughed correct to laughed
Copyright page: Proofreader: Meenakshi Moses correct to Proofreader: no proofreader!
We hope you enjoy the teachings and artwork within Living with Reality despite these errors.
$15.00 $12.00 (S&H $4 in USA added at check out).  For orders outside of the USA please email us with your mailing address for shipping costs. Thanks.