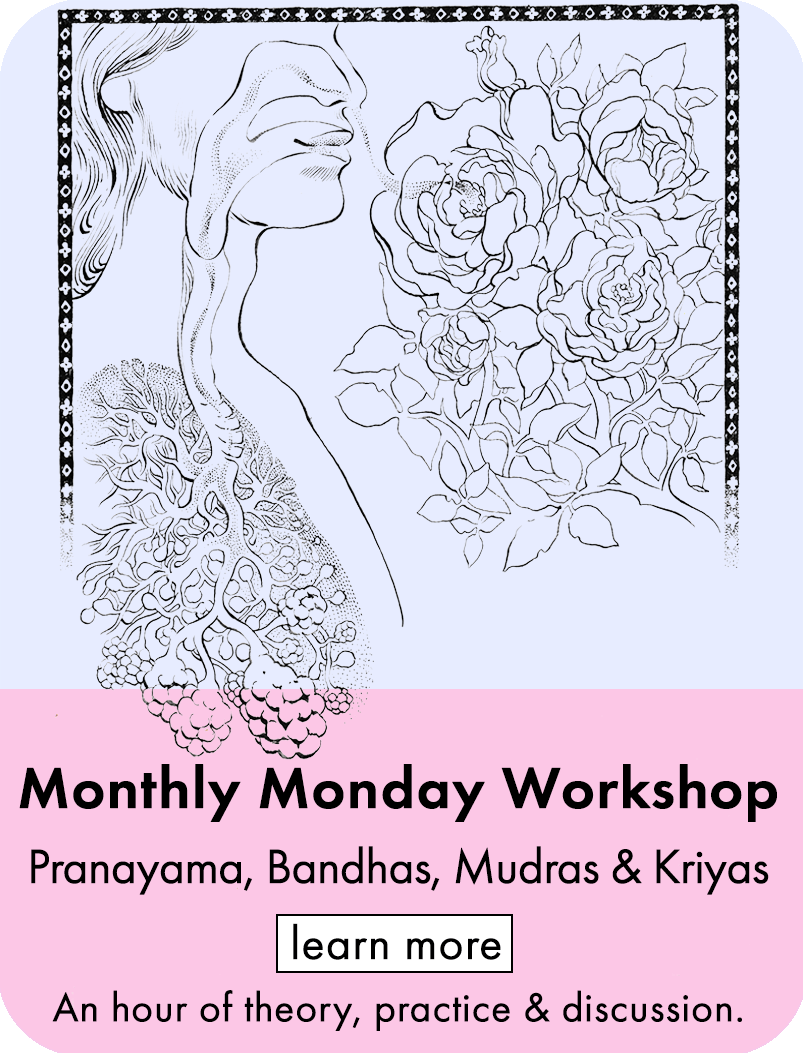 Monthly Monday Workshop•Live on Zoom
$18.00 – $25.00
NEXT WORKSHOP: MONDAY OCTOBER 11, 2021
7:30-8:30 AM USA Eastern Time
BUILDING A PERSONAL PRACTICE & NADI SAMANU
Guidelines for creating and establishing your own daily pranayama practice. How and why to practice and use Nadi Samanu (cleansing the nadis with pranayama and bija mantras) as the keystone of your routine.
Once a month, on a Monday, an hour of theory, practice and discussion. Each month we will focus on one or two of the important techniques of Pranayama, Kriyas, Bandhas and Mudras of Hatha Yoga. Open to all levels. Be ready to learn, do some practice and ask questions. The workshop will address specific practices from medieval yogic texts and what their effects are according to the ancients and current scientific understanding. Register below and read the Tips to Prepare & FAQ. See the Resources page for free videos: basic warm ups, how to do jala and sutra neti and to learn more.
Sign up for News here. Graphic by Satya Moses. On Instagram @satya.mo and satyamoses.com

Suggested donations amounts to register for the class are below.
You will receive a link to ZOOM in an email; then register on ZOOM.
If you do not receive the link PLEASE CHECK YOUR SPAM folder.
Please keep the link safely and do not share with anyone.
If you're unable to donate please email me to request enrollment.
Classes are recorded and uploaded to VIMEO with password for you to use at anytime.