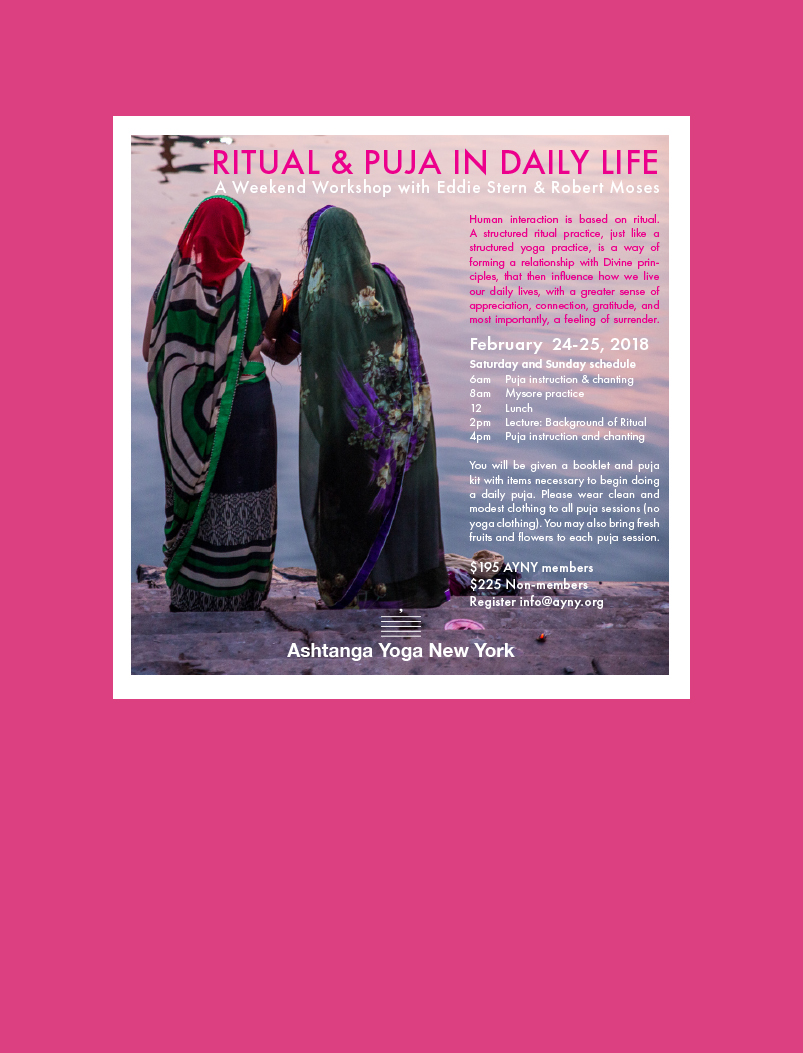 Ritual & Puja in Daily Life 2018 :: Completed
A weekend workshop with Eddie Stern & Robert Moses
February 24-25, 2018 at Ashtanga Yoga New York

All human interaction is based on ritual. The way we get up in the morning, how we greet each other, and our daily routines, are all based on habit and custom. A habit is basically a ritual that is done without awareness, or without devotion. When we infuse our daily habits with a feeling or devotion or reverence – or even simple awareness – we uplift our daily activities into a transformation of consciousness from a mundane reality to a sacred reality.
A structured ritual practice, just like a structured yoga practice, is a way of forming a relationship with Divine principles, that then influence how we live our daily lives, with a greater sense of appreciation, connection, gratitude, and most importantly, a feeling of surrender. Surrender is the one thing that allows our individual sense of a separate "I" to release into an experience of interconnection. In Sanskrit, it is called bhakti, and is said to be the source of the greatest, impersonal joy.
In this weekend workshop, we will practice ritual, discuss the philosophical background, and learn how to use daily yoga practice as a ritual as well.
Schedule: Saturday and Sunday
6am Group puja instruction and chanting
8am Mysore practice
12 noon lunch
2pm Lecture: Background of Ritual
4pm Group puja instruction and chanting
Materials: You will given a puja booklet and puja kit with items necessary to begin doing a daily puja. Please wear clean and modest clothing to all puja sessions (no yoga clothing). You may also bring fresh fruits and flowers to each puja session.
Price: Register here
$195 AYNY members
$225 Non-members