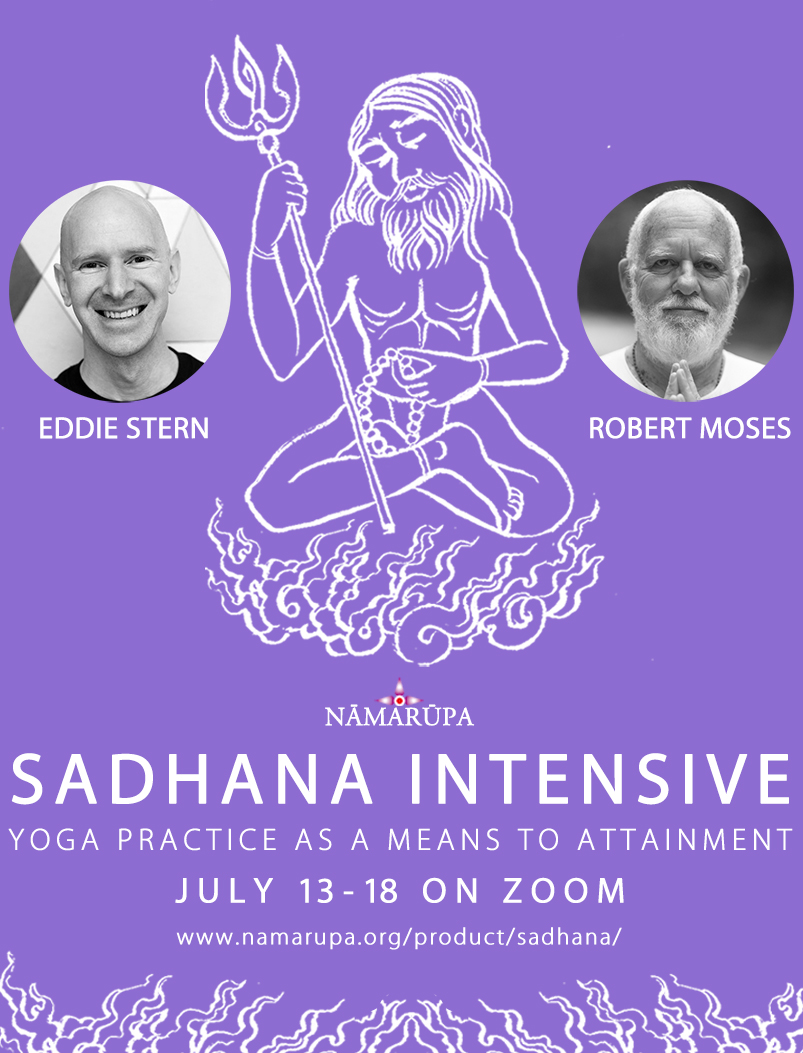 Sadhana Intensive with Eddie Stern & Robert Moses
ONLINE ON ZOOM JULY 13 – 18, 2020
"Living in a small matha [hut] the Yogin, being free in mind of all cares, should practice Yoga all the time…" Hathayogapradeepika 1:14
Since we all got locked down by the corona virus in our modern day mathas (dwelling places), we might well take the time to do some more intense sadhana (spiritual practice). We have set up a week-long program combining led classes and talks with guided self-practice. Each day starts with meditation and mantra chanting.  Then we will repeat a sankalpa (determination to practice), invoking the lineage of Hatha Yogis of old. Pranayama and asanas follow. Discussion will be  based on Hathayogapradeepika of Yogi Svatmarama. What are the essential aims and possible results of yoga sadhana? Evenings close with mantras and meditation.
Late breaking great news. Dr. Robert Svoboda will be joining us for one of the Question sessions.
---
REGISTER: Please read the notes and schedule before registering.
After registration, we will send you a course manual with the Zoom Meeting ID and password, links to Vimeo Video, chants, sankalpa with meanings, and more resources. If you're unable to donate please email us requesting enrollment.
---
NOTE: If you cannot donate via PayPal please go to SQUARE and email a copy of the receipt to Namarupa. Thanks.
---
Sitting in front of a screen on Zoom for long hours can be energy draining. We want to minimize the time spent online and maximize the time spent in actual sadhana. We will be on ZOOM on alternate days only. On the ZOOM-free day you will repeat the schedule given the day before.
DAILY SCHEDULE:
July 13, 15, 17 & 18 will be online. July 14 and 16 will be offline.
The times are EASTERN TIME (USA) – Like New York.
Both Eddie and Robert will be on Zoom for the ZOOM LIVE meetings.
Dr. Robert Svoboda will be joining us for a Question session.
Eddie will record an asana class on Vimeo that you can use for self practice.
The GREY TEXT are sessions you will do by yourself in your "matha".