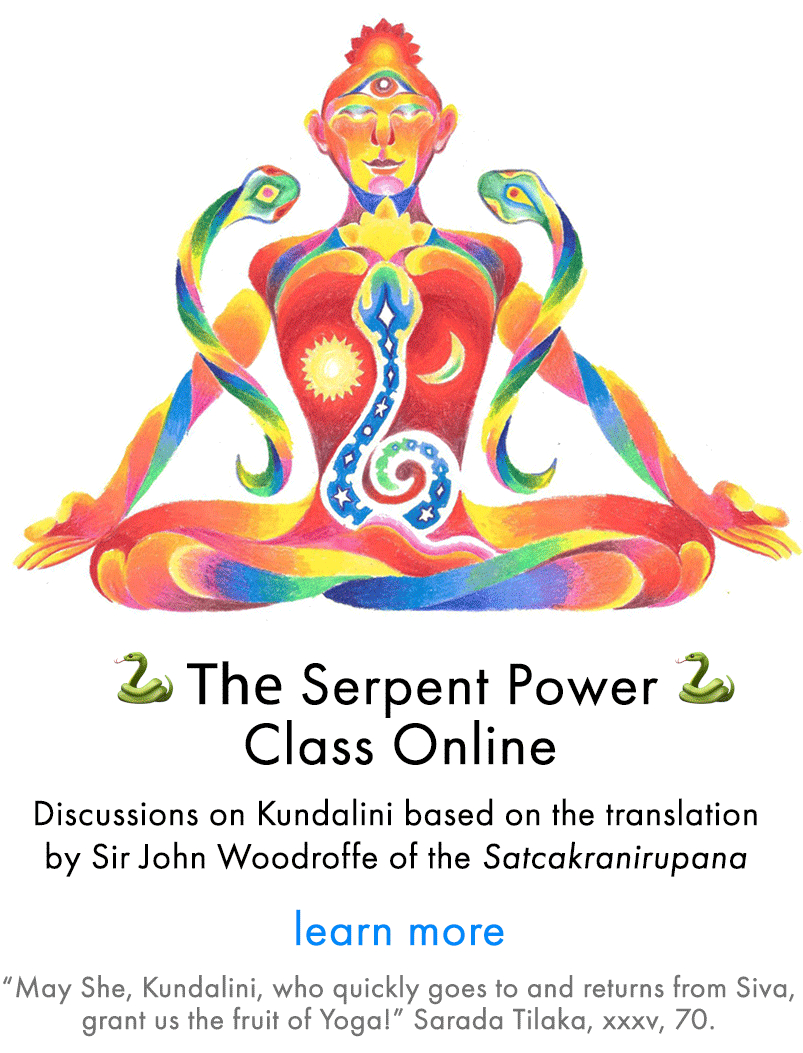 The Serpent Power – Live on Zoom
$72.00 – $120.00
8 CLASSES ON SUNDAYS 9:00 – 10:00 AM USA Eastern Time
REGISTER BELOW FOR AUGUST 8 – SEPTEMBER 26, 2021
One-hour discussions, based on readings and commentary of the text. If you wish to explore Kundalini Yoga in depth, then these classes will help.

THE SERPENT POWER
The Sanskrit work Satcakranirupana — Description of the Six Cakras — deals with a particular form of yoga often called Kundalini Yoga. The translation of Satcakranirupana by Sir John Woodroffe is known as The Serpent Power. We will go through the essential verses, using slides, to try to understand the philosophical foundations of the practices and the purpose of Hatha Yoga.
Sir John George Woodroffe (1865 – 1936), also known by his pseudonym Arthur Avalon, was a British Orientalist whose extensive and complex published works on the Tantras and other Hindu traditions stimulated a wide-ranging interest in Hindu philosophy and yoga. He was appointed Standing Counsel to the Government of India in 1902 and in 1904 was raised to the High Court Bench. He served there for eighteen years, becoming Chief Justice in 1915. Alongside his judicial duties he studied Sanskrit and Hindu philosophy and was especially interested in Hindu Tantra. He translated some twenty original Sanskrit texts and, under his pseudonym Arthur Avalon, published and lectured prolifically on Indian philosophy and a wide range of Yoga and Tantra topics. After retiring to England he served as Reader in Indian Law to the University of Oxford. https://en.wikipedia.org/wiki/John_Woodroffe
LIVE CLASSES: Suggested donations below.  You will receive a link to the ZOOM Meeting ID and Passcode in the confirmation email. Please keep them safely and do not share with anyone. You only need to register once on ZOOM for all 8 classes. If you do not receive the links PLEASE CHECK YOUR SPAM folder. Looking forward to seeing you in the class on Zoom. Best wishes, Robert.
RECORDED CLASSES: In the event of time zone issues all the classes will be recorded and posted to Vimeo with a link and password sent to all registrants. They will remain online for an indefinite period.
If you're unable to donate please email me to request enrollment.