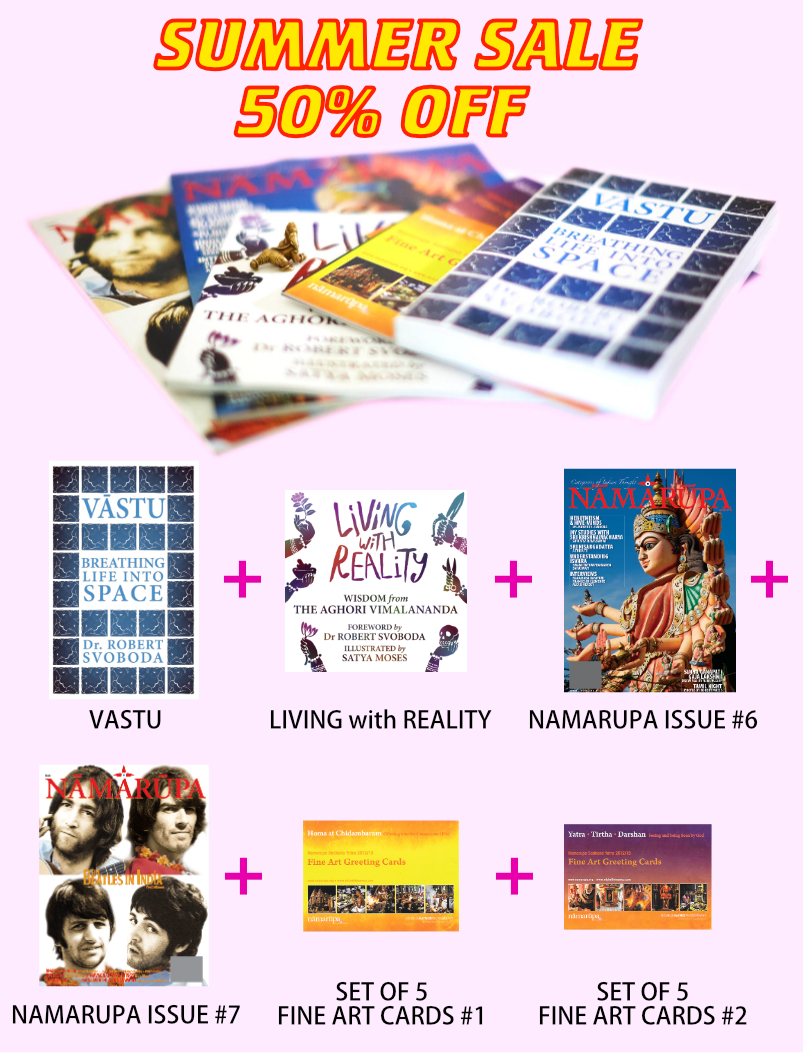 Summer Sale! 50% OFF!
$40.00
ALL THESE FOR ONLY $35 + $5 S&H = $40
SCROLL DOWN BELOW TO ADD TO CART
---
VASTU: BREATHING LIFE INTO SPACE by Dr. Robert Svoboda
"Robert Svoboda addresses Vastu, the classical Indian art (or science) of architectural form, in a wholly unique way. He sensitizes the reader to the dynamics of space, alignment, and form in ever-expanding orbits of individual life." Frederick M. Smith, Professor of Sanskrit and Classical Indian Religions, University of Iowa
LIVING WITH REALITY: Wisdom from the Aghori Vimalananda
A book featuring illustrations by Satya Moses that visually interpret 28 quotes from the beloved Aghora books by Dr. Robert Svoboda. Featuring a foreword by Dr. Svoboda.
NAMARUPA Issue 7: Hard Copy – Perfect bound. Collectors item!
NAVAGRAHA: NINE SEIZERS OF HUMAN DESTINY  Nara Allsop
JYOTISHA  Robert E. Svoboda
YOGA SUTRA OF PATANJALI 8-11  Edwin Bryant
RASAKHAN  Shyamdas
OCEAN OF GRACE  Shyamdas
A TALK ON THE BHAGAVAD GITA  Richard Freeman
LOOKING FOR A LOST GITA  Paul G. Hackett
AN AUSPICIOUS ASSOCIATION  Graham Bond
THE DITCITARS OF CITAMPARAM  Robert Moses, Photo Essay
TRANSLATING THE BHAGAVAD GITA  Graham M. Schweig
NOTES ON THE BHAGAVAD GITA  Paul H. Sherbow
INTERVIEW WITH SARASWATHI RANGASWAMY  Nick Evans
THE BEATLES IN INDIA  Paul Saltzman
MINIATURE PAINTING  Rekha Bharwani
NAMARUPA Issue 6: Hard Copy – Perfect bound. Collectors item!
COVER Giant Durga near Madurai, Tamil Nadu, South India.
INTERVIEW WITH FRANCESCO CLEMENTE  Eddie Stern
MY STUDIES WITH SRI KRISHNAMACHARYA Srivatsa Ramaswami
SIMHA GANAPATI & GAJA LAKSMI Nara Allsop
TULASI DEVI IN NORTH AMERICA Jesse Gordon
HENOTHEISM AND HIVE-MINDS Dr. Robert E. Svoboda
UNDERSTANDING ISVARA Swami Tattvavidananda Saraswati
INTERVIEW WITH ALEXIS KERSEY Nick Evans
TAMIL NIGHT Robert Moses, Photo Essay
IN DEFENSE OF BEAUTY AND THE SACRED Siddartha Shah
SRI NISARGADATTA MAHARAJ Abdi Assadi
LAST DAYS OF SRI NISARGADATTA MAHARAJ S. K. Mullarpattan
FROM CONSCIOUSNESS & THE ABSOLUTE Sri Nisargadatta Maharaj
SELF AND NON-SELF: DRGDRSYAVIVEKA Raphael
YOGA SUTRA OF PATANJALI 5-7 Edwin Bryant
RESURRECTING YOGA Joshua M. Greene
INTERVIEW WITH NAGA BABA RAMPURI Claudia Turnbull
FROM IDOL WORSHIP Swami Sivananda
2 SETS of FINE ART GREETING CARDS – Perfect for writing cards.
Each set has 5 beautiful photographs by Michelle Heymoz
1. Yatra • Tirtha • Darshan: Seeing and Being Seen by God
2. Home at Chidambaram: Offering into the Sacred Fire.
Offer good only in the USA. People in other countries please email us for shipping costs – which may be high!