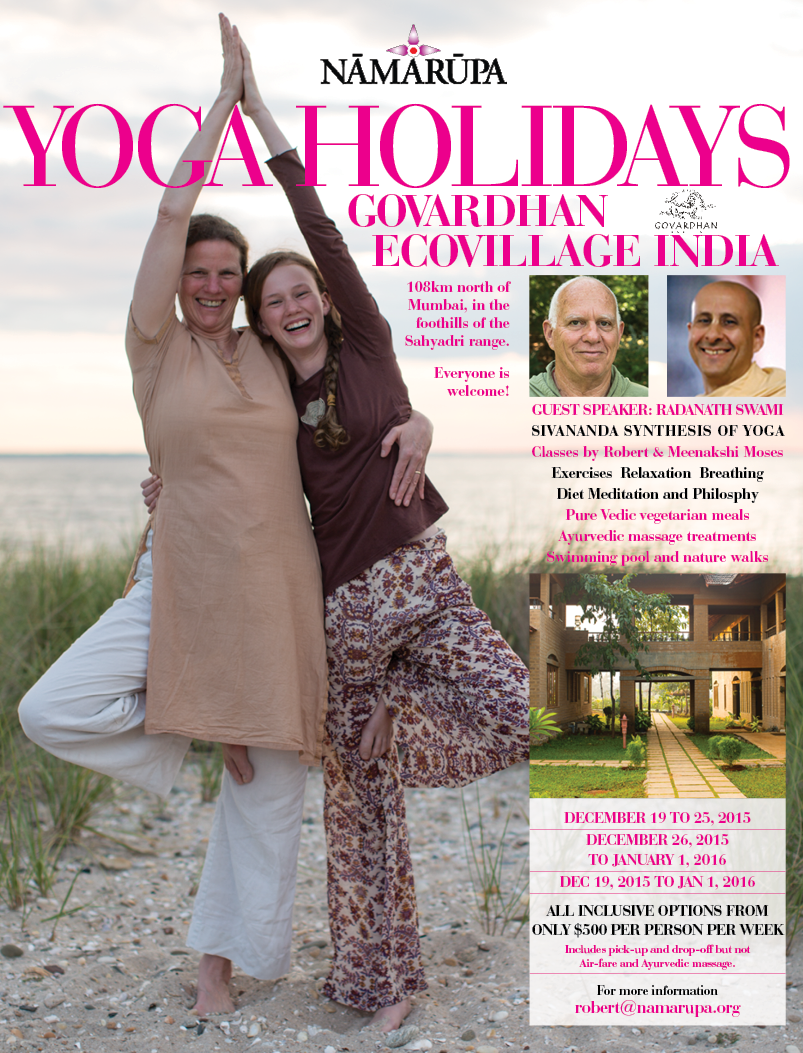 Yoga Holidays 2015 :: Completed
Yoga Holidays were begun by Swami Vishnudevananda shortly after he arrived in the USA from India in 1957. Swamiji noticed that people were going on vacation and returning home exhausted. They were doing everything in excess! He started holidays where everyone did proper exercise and breathing, ate healthy vegetarian food, meditated, and lived simply. They felt rested, relaxed, and rejuvenated. Soon there were yoga holiday spots sprouting up all over the world.
YOGA HOLIDAYS are over for 2015. Check back for more in 2016.
Namarupa is proud to bring Yoga Holidays in India at Govardhan Ecovillage. Only 108 km north of Mumbai in the foothills of the Sahyadri range, nestled in nature, Govardhan Ecovillage is a model farm community and retreat center highlighting the importance of spiritual ecology: the need for us to live in harmony with ourselves, nature, and the sacred. Learn more >
Sivananda Yoga Synthesis combines all the classical yogic paths into a modern blend of a clear head, a loving heart, a selfless hand, and a healthy body. The daily program at Namarupa Yoga Holidays is based on these principles.
Guest Speaker Radhanath Swami is a guide, community builder, activist, and acclaimed author. He has been a Bhakti Yoga practitioner and teacher for more than 40 years. He is the author of Journey Home, a memoir of his search for spiritual truth.
Robert and Meenakshi Moses, trained by Swamiji, have many years of experience teaching Sivananda Yoga worldwide. Radha-kunda das, disciple of H.H. Sri Radanath Swami and manager of Sacred Journeys India, will lead kirtan.