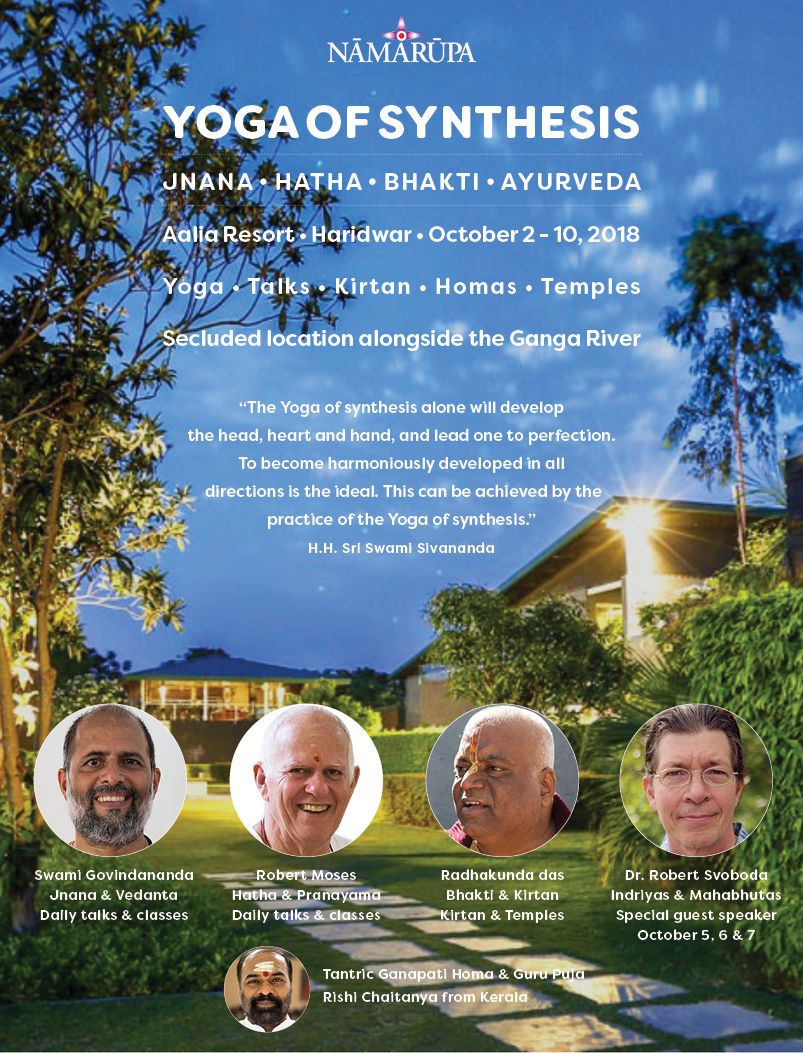 Yoga of Synthesis October 2018 :: Completed
The Yoga of Synthesis alone will develop the head, heart, and hand, and lead one to perfection. To become harmoniously developed in all directions is the ideal. This can be achieved by the practice of the Yoga of Synthesis.
H.H. Sri Swami Sivananda
THE YOGA OF SYNTHESIS RETREAT HAS BEEN SUCCESSFULLY COMPLETED
CHECK BACK HERE FOR VIDEOS AND PHOTOS – SOON!
NAMARUPA is thrilled to announce a very special retreat in a sublime, secluded location on the banks of the Ganga, not far from the sacred town of Haridwar: Eight days devoted to discussing and practicing aspects of spiritual development guided by experienced, traditionally trained teachers. The retreat provides an opportunity to experience a Yoga of Synthesis, combining meditation, kirtan, asana, pranayama, and homa, and the science behind these disciplines.
We have brought together a group of inspiring teachers from a variety of disciplines. After extensive exploration, we have found an amazing locality. Aalia Resort is comfortable, quiet, and conducive to practice, yet close to an array of temples, nature reserves, and the fabulous town of Haridwar, Gateway to the abode of the Gods in the Himalayas. Beginning with an elaborate Ganesha Homa, we will follow a comprehensive daily practice and discussion schedule as well as visiting nearby temples and evening Ganga arati.
Dr. Robert Svoboda, special guest speaker, will be with us on October 5, 6 and 7 to discuss the role of the Indriyas and Mahabhutas in sadhana. Swami Govindananda will teach classes on Jnana Yoga and Advaita Vedanta. Robert Moses will lead Hatha Yoga and Pranayama classes as taught in the Sivananda system. Robert will also give talks on the Respiratory, Cardio-vascular and Nervous Systems, and how ancient yogic techniques play a crucial role in effecting their health.  Radhakunda das will lead us in kirtan and bhakti and guide our temple visits. Rishi Chaitanya will perform Ganesha Homa and Guru Puja in the elaborate tantric tradition of Kerala.