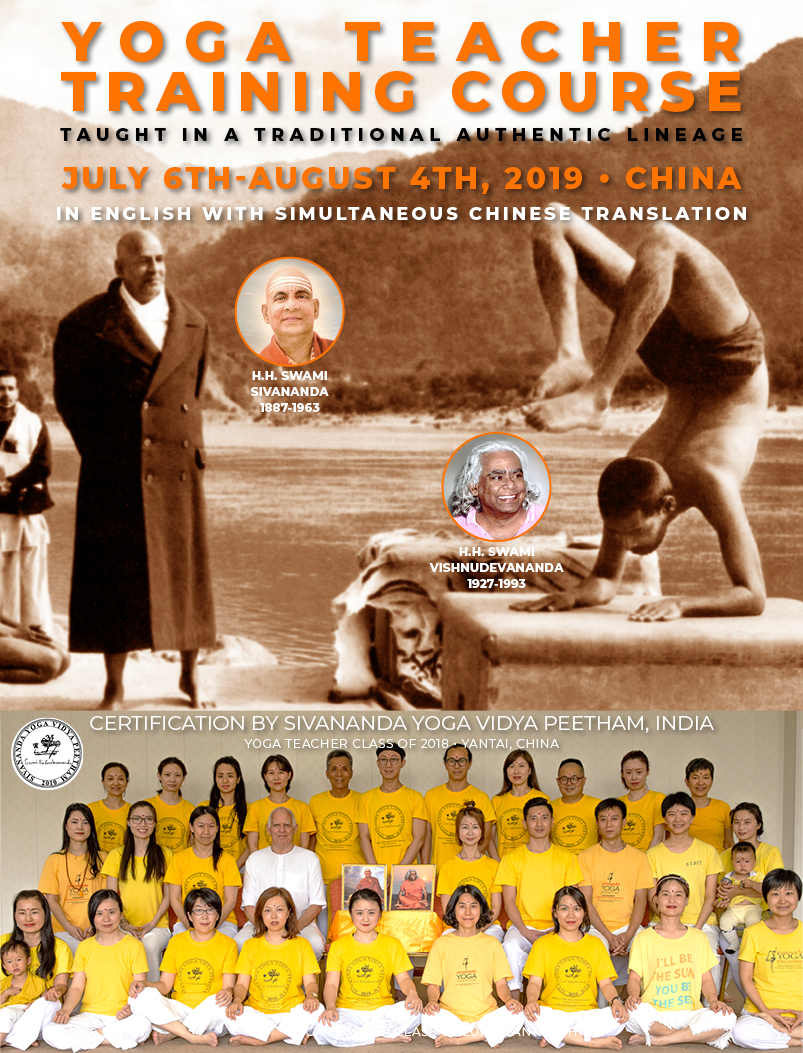 Yoga Teachers Training in China 2019
JULY 6 – AUGUST 4, 2019

STUDY YOGA SYSTEMATICALLY & COMPREHENSIVELY
IN AN AUTHENTIC TRADITIONAL LINEAGE. LEARN MORE ->

Four intensive weeks in a residential environment,
practicing and learning to teach Yoga!
Swami Vishnudevananda's Five Points for Radiant Health and Happiness: Proper Exercise • Proper Breathing • Proper Relaxation • Proper Diet • Positive Thinking and Meditation In-depth practical study of all aspects of Yoga and Vedanta: Asana • Pranayama • Kriyas • Karma Yoga • Bhakti Yoga • Raja Yoga • Jnana Yoga • Hatha Yoga • Advaita Vedanta • Kundalini Yoga • Bhagavad Gita • Mantras • Kirtan • Anatomy • Physiology

Yoga Teachers Training Course: July 6 – August 4, 2019
Under the auspices: Sivananda Yoga Vidya Peetham, Kerala India.
Teachers: Robert Moses, Sunita, Zhang Hailiang (Chinmaya), Satya Moses & Zheng Yubing (Jane). Fulfills requirements for Yoga Alliance RYT 200. Venue in China: To be announced soon.
LEARN MORE- ENGLISH BROCHURE ->
LEARN MORE- CHINESE BROCHURE ->
GO TO THE VIDEO: WHAT IS A YOGA TEACHERS COURSE ->
GO TO THE VIDEO: SIVANANDA YOGA IN A NUTSHELL ->
To register in China email: chiffonps@yahoo.com.hk
To register outside of China or to discuss email: robert@namarupa.org
Scroll down to watch a short video of the 2016 course in Uttarkashi, India.

---
In the 1940s Swami Sivananda of Rishikesh, Himalayas promoted a yoga of synthesis. He advocated blending karma, bhakti, jnana, raja, and hatha yogas into a comprehensive and integral system which would endow the practitioner with the all-around development of a healthy head, heart, and hand. In today's branding of timeless yogas, it has become well known worldwide as 'Sivananda Yoga'.
Sivananda's disciples spread around the world. In 1957 he told a young Swami Vishnudevananda to go to the west with the words, "People are waiting".  Swamiji set out and began teaching the fundamentals of health and happiness through inner yogic discipline. After an awakening vision in 1969, he established a Yoga Teachers Training Course. His tireless efforts in turning the soil and planting seeds have been hugely influential in the modern yoga movement. In turn, Swamiji's students have continued spreading these teachings in ashrams, centers, homes and families, workplaces and professions across the world.
Courses are conducted in a residential ashram environment. Study, practice, absorb, and learn to teach a traditional and comprehensive system involving all aspects of yogic practices. Philosophical and physiological disciplines are included. Successful participants receive certification. The daily program includes silent meditation, kirtan, classes and discussions, two vegetarian meals, seva and study time. Trainees are from around the world. Uniforms, accommodations, books, and a manual are included. Click here to learn more and register.
Robert Moses, Co-Publisher, Namarupa
Photographs taken during the Teachers Training Course in Uttarkashi in September 2016. ©robertmoses
Video of Yoga Teachers Training in Uttarkashi September 2016