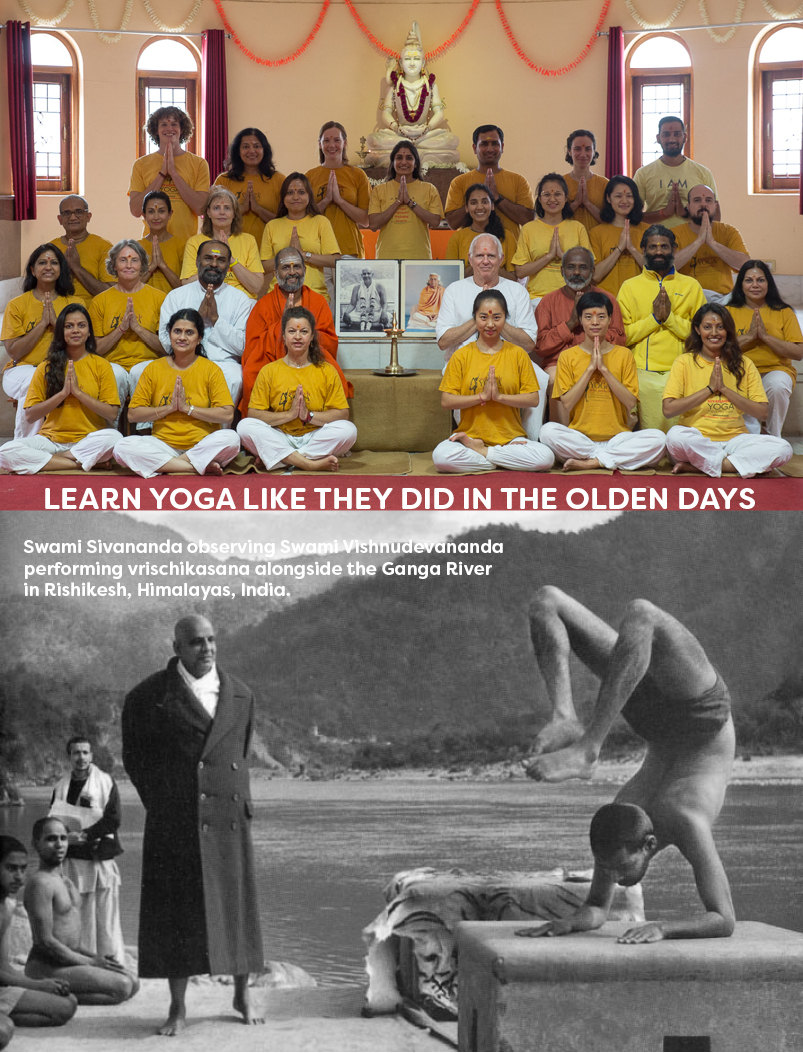 Yoga Teachers Training Level 2: August-September 2018
Yoga Teachers Training Course Level-2: August 11 – September 9, 2018
Conducted by: Sivananda Yoga Vidya Peetham, Varkala, India.
Teachers: Swami Govindananda and Robert Moses
Fulfills requirements for Yoga Alliance USA/Ca RYS300 hour accreditation.
Venue: Tapovankuti, Uttarkashi, Himalayas, India 
Learn more & register… Scroll down to watch a short video of the 2016 YTTC-Level 1 course.

---
Course Details
The Level 2 Yoga Teacher Training Course (YTTC-II) is a four-week course designed for graduates of the Yoga Teachers Training Course (YTTC-I). The course builds on the foundation of YTTC-I allowing students to deepen their spiritual knowledge with intense daily practice of asanas, pranayama and bandhas. This course allows yoga teachers to deepen their sadhana (spiritual practice) and swadhyaya (self study) during four weeks of intense yoga practice and study of Hatha yoga, Bhakti yoga, Karma yoga, Sanskrit, the Raja Yoga Sutras of Patanjali, Vedanta philosophy and anatomy and physiology. The approach to teaching is personal, focusing on the individual student.
The course is offered with Yoga Alliance USA/Ca RYS300 hour accreditation – once completed, the graduate of the course will be able to apply to Yoga Alliance for their 300 hour registered Yoga Teacher certification.
The YTTC-II is a natural step for YTTC-I graduates who would like to expand and deepen their practice and knowledge of yoga. The YTTC-II is an intensive and transformative experience.
Pre-Requisites
YTTC-II courses are open only to graduates of Yoga Teachers Training Course (YTTC-1) from SYVP, ISYVC ( www.sivananda.org ) and Yoga Vidya ( www.yoga-vidya.de ) in Germany
Curriculum
Satsang: Satsang consists of silent meditation, chanting and a talk or reading on the philosophy of yoga and Vedanta. It will help you develop a strong and steady meditation practice.
Yoga Asanas: Progress in your yoga asana practice (advanced variations and prolonged holding of the postures), increase your concentration and learn detailed corrections.
Pranayama: One hour of practice each morning including advanced pranayama and bandhas.
Vedanta: Study of the different philosophical schools of India, vedantic theory and practice, and vedantic meditation techniques.
Raja Yoga: In-depth study of Patanjali Yoga Sutras for deeper understanding of how to control and eventually transcend the mind.
Sanskrit: The alphabet, pronunciation and the writing of sacred mantras.
Anatomy and Physiology: Functioning of the nervous and endocrine systems in relation to the practice of yoga. Hatha Yoga Anatomy – Myofascia and Yoga – Functional Approach to Yoga – Skeletal Variations – Meditation and the brain – Stress physiology and Stress management
Karma Yoga and Bhakti Yoga: Inner attitudes of selfless service; the nine modes of Bhakti as a means for transforming emotions into love and devotion.
Meditation: Inner attitudes of selfless service; the nine modes of Bhakti as a means for transforming emotions into love and devotion.
Video of Yoga Teachers Training in Uttarkashi September 2016