Ritual & Puja in Daily Life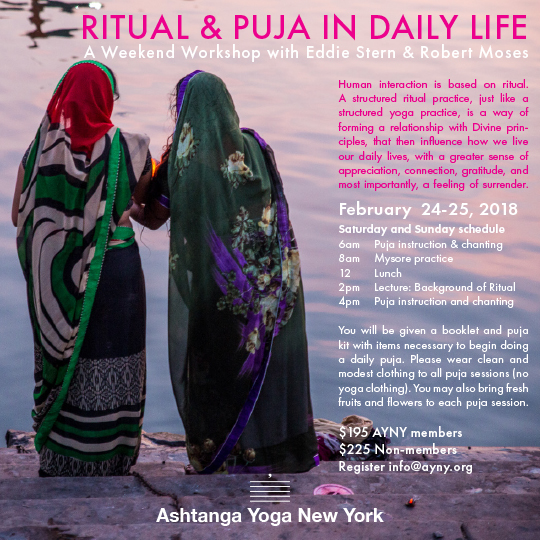 A Weekend Workshop with Eddie Stern & Robert Moses
Human interaction is based on ritual. A structured ritual practice, just like a structured yoga practice, is a way of forming a relationship with Divine principles, that then influence how we live our daily lives, with a greater sense of appreciation, connection, gratitude, and most importantly, a feeling of surrender.
February 24-25, 2018
Saturday and Sunday schedule
6am Puja instruction & chanting
8am Mysore practice
12 Lunch
2pm Lecture: Background of Ritual
4pm Puja instruction and chanting
You will be given a booklet and puja kit with items necessary to begin doing a daily puja. Please wear clean and modest clothing to all puja sessions (no yoga clothing). You may also bring fresh fruits and flowers to each puja session.
$195 AYNY members
$225 Non-members
Register info@ayny.org