The Journey Within – A new book by Radhanath Swami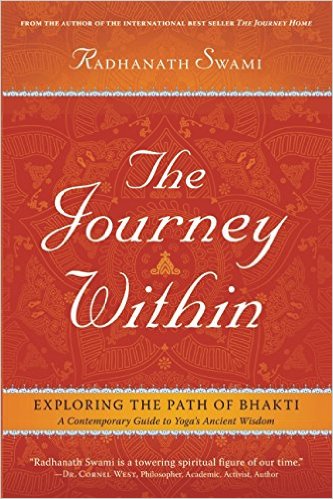 THE JOURNEY WITHIN
Best-selling author Radhanath Swami inspires readers once more in this long-awaited follow-up to The Journey Home: Autobiography of an American Swami. Intimate stories from his decades of experience as a guru illustrate the basic tenets of bhakti yoga, and illuminating references to Western religions and ideologies make this ancient philosophy more accessible than ever.
The Journey Within invites readers from all backgrounds to delve into their hearts and discover the simple truths that unite us all. World-renowned spiritual leader Radhanath Swami draws from his path toward enlightenment and his personal experiences to demystify the ancient devotional path of bhakti, capturing its essence and explaining its simple principles for balancing our lives. His down-to-earth writing simplifies spiritual concepts and answers timeless questions in a heartfelt narrative that brings this sacred philosophy beautifully to life. What is love? What is the soul? Who is God? How can we live in the physical world without losing touch with the spiritual? In concise and approachable language, Radhanath Swami sheds light on how to answer these vital questions and offers solution to life's dilemmas with the simplest of resources. Begin your own journey within and uncover the path of self-discovery and transformation.